With NetSupport School in a Mac environment, teachers have a myriad of tools at their disposal to deliver learning that engages and involves their students, while simultaneously ensuring their online safety and the smooth running of lessons.

Teachers can connect from a Mac device to students using a full mix of different platforms including Mac, Chromebooks*, Windows, iOS and Android, plus the teacher can connect to a Mac student from any device/platform
NetSupport School for macOS
Manage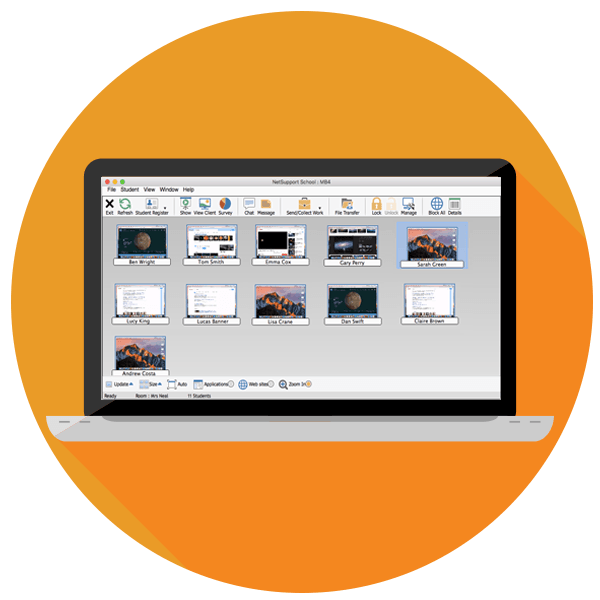 Ask students to register at the start of each lesson – the teacher can request standard and custom information from each student at the start of a lesson.
Lock or blank students' screens to gain attention.
Lock/unlock students' Mice and Keyboards – by default, a graphic will appear on the student workstation, informing them that their mouse and keyboard is locked. 
Hand out and automatically collect files with each student's details appended.
Transfer documents and resources to all or selected students in a single action. It is also possible to copy files and directories between two students.
Power Management – power on or off, log in/log out or reboot classroom computers.
Flexible range of options for connecting to the required student machines: assign machines to a designated room; or, dependent on the naming convention used for your machines, a fixed list of machines or match by partial machine name.
Instruct and Demonstrate
Show the Tutor's desktop to all or selected students to help emphasise key learning points.
Open a chat session that all or selected students can join, enter their comments and share with the rest of the class.
Send an attention-grabbing message or instruction to all / selected students. The message will be displayed in a dialog on the student screens and will remain until the user closes the dialog or the specified time limit expires.
Remote control the student's screen to instruct or remedy activity. Plus, using 'share' and 'watch' mode, the tutor and/or student can enter keystrokes and mouse movements.
Screen Capture a students screen, saving the image in a file for later review along with the machine and student details.
Monitor
Monitor the entire class or individual students via crystal clear thumbnails of each connected students' screen, providing a quick and easy method for monitoring student activity in a single view. An icon is displayed on each student thumbnail indicating which website/application the student is currently using.
Zoom in for an optimised high-definition view.
Monitor and control application use – includes options to minimise or close open applications.
Monitor and restrict internet use.
Assess
Send an instant survey or request for feedback to all/selected students to help gauge if the students have understood the content covered during the lesson. The teacher sends a question together with a selection of pre-defined responses, and when the students respond, the results are displayed in real time in percentages and as a bar chart. The surveys can be saved and re-used again.
Technical benefits
Locate machines across any number of TCP/IP subnets.
Accelerate Browse option available when searching for a large number of machines.
Low Bandwidth Mode available for network environments where low data usage is a priority. Ideal for optimizing wireless network performance.
Optimize network performance by increasing or decreasing the thumbnail refresh rate.
The Support Tool provides school technicians access to all the system data to help diagnose and fix any problems.
System requirements
Mac: Processor: Intel Only | Operating System: Mac OS X 10.8 through to 10.15. 64bit Support.
(Administrator password required to complete this installation.)
The MacOS agent can be installed remotely on the MacOS clients, meaning no manual installations. Read our Installation Guide for more information.

*To establish a connection between the teacher and Chrome students, the NetSupport Name & Connectivity Server (NCS Gateway) must be installed (via the 'main Windows download' option). Read our Installation Guide for more information.